After opening the FACE FIT studio in Afimall City a permanent promotion was created: a 44% discount on the first massage (1800₽ instead of 3000₽) and every 11th massage for free.

In order to get a stream of first clients and encourage them to join the loyalty program the studio displayed promo conditions and the QR-code right on their showcase:



The promo display on the salon showcase in Afimall City.
FACE FIT stamps card example.
Follow the link to issue the card:
https://app.boomerangme.cards/home/getpassform/439
By this promo, after 3 months the studio began to turn a profit.

In the first 3 months after opening the following results were achieved:

341 promotion participant installed the card.
1430 stamps were awarded.
59 awards were earned.
49 awards were issued.

By this promotion which encouraged the first visit, it was possible to create a stream of first clients, some of whom became regulars, and begin to turn profit by the 3rd month.


By the 4th month the implementation of this single promotion led to profits of 840 000 ₽.

After 6 months since the launch, the statistics grew even further due to the increased number of new clients: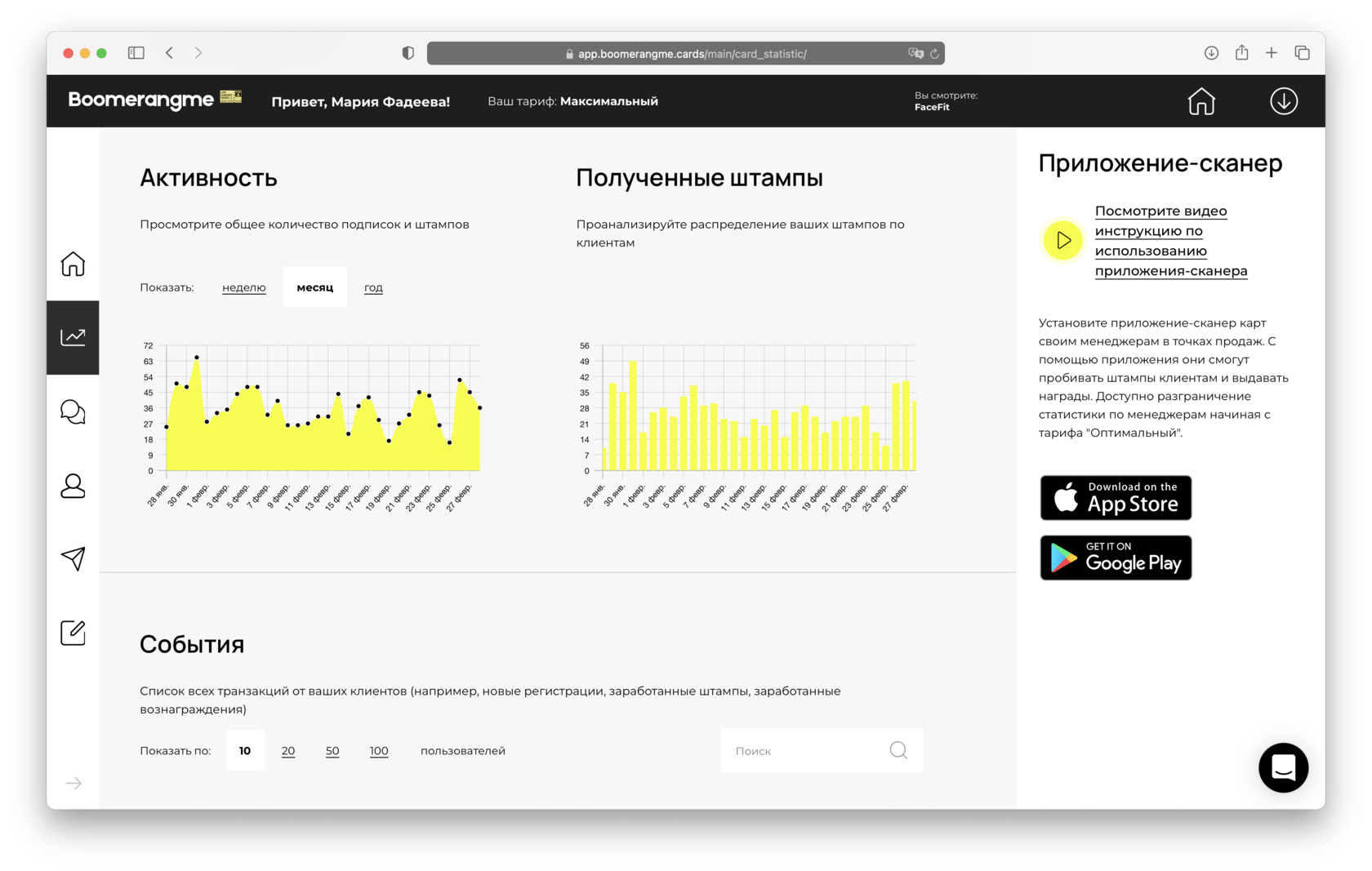 Promotion statistics for the 6 months after launch.


Given the average sale value of 3000 rubles for a single massage in FACE FIT studio, it is easy to estimate the effectiveness of the promotion: it brough 21 639 000₽ in sales within the first 6 months of implementation.


Digitization of subscriptions.

In addition to creating an accumulative card, the client wanted to digitize massage subscriptions. Up until that moment they were printed out as certificates on expensive designer paper and presented to clients in branded envelopes at the time of purchase.





An example of a printed FACE FIT subscription card.


For one, this led to constant additional expenses for the salon, since roughly half of their services were sold through subscriptions. In addition to that, there was a persistent issue with clients who forgot or lost their subscription cards.


We created digital subscriptions that were tightly integrated with the YCLIENTS service.

At the moment of purchase, a subscription for the required number of visits gets created automatically and is sent to the client via SMS. This way the client can immediately save the subscription to their phone - they will not lose or forget it.





Digital subscription example


Now FACE FIT has all of its marketing communication with clients digitized and accounted for. The client knows exactly how effective their promotions are and can conduct experiments based on the data.

"We have been using Boomerangme for over a year and not only does this service help us be client oriented, but it also helps us track all key data.
We create new promotions, save on sending newsletters, make digital subscriptions and bonus programs."

Maria Fadeeva
FACE FIT Founder