How we digitalise all 4hands promotions

Cashback normally works best for retail. However, in the beauty sphere accumulative promotions that grant a free procedure are more common. An example of this would be offering every 10th manicure or massage for free. Promotions like these are more transparent and easier to understand for clients, and also more profitable for businesses.


The math behind such promotions is simple: every 10th procedure offered for free equals 10% discount for each of 10 procedures. The only difference is that the accumulated discount is paid out in one go when a client gets to the final procedure.

Given the fact that not all program participants are going to get to the 10th procedure, you will earn extra profit from those who never claimed the final reward.

Normally, in order to launch accumulative promotions salons use paper cards that get stamped after each procedure. While the promotion itself works well, the cards often get lost or left at home by accident. In addition to that, it is difficult to track and analyze such campaigns, and cheating can also take place.


There is a solution to this problem

We developed the solution by creating digital cards for Apple Wallet and Google Pay that can be integrated with YCLIENTS. Let us show you how it worked for one of our clients - a nail salon network 4hands.


4hands case

Together with 4hands we created a promotion card: every 11th classical manicure in branded coating is free. We did not introduce a new loyalty system, but simply digitized the existing one that worked well.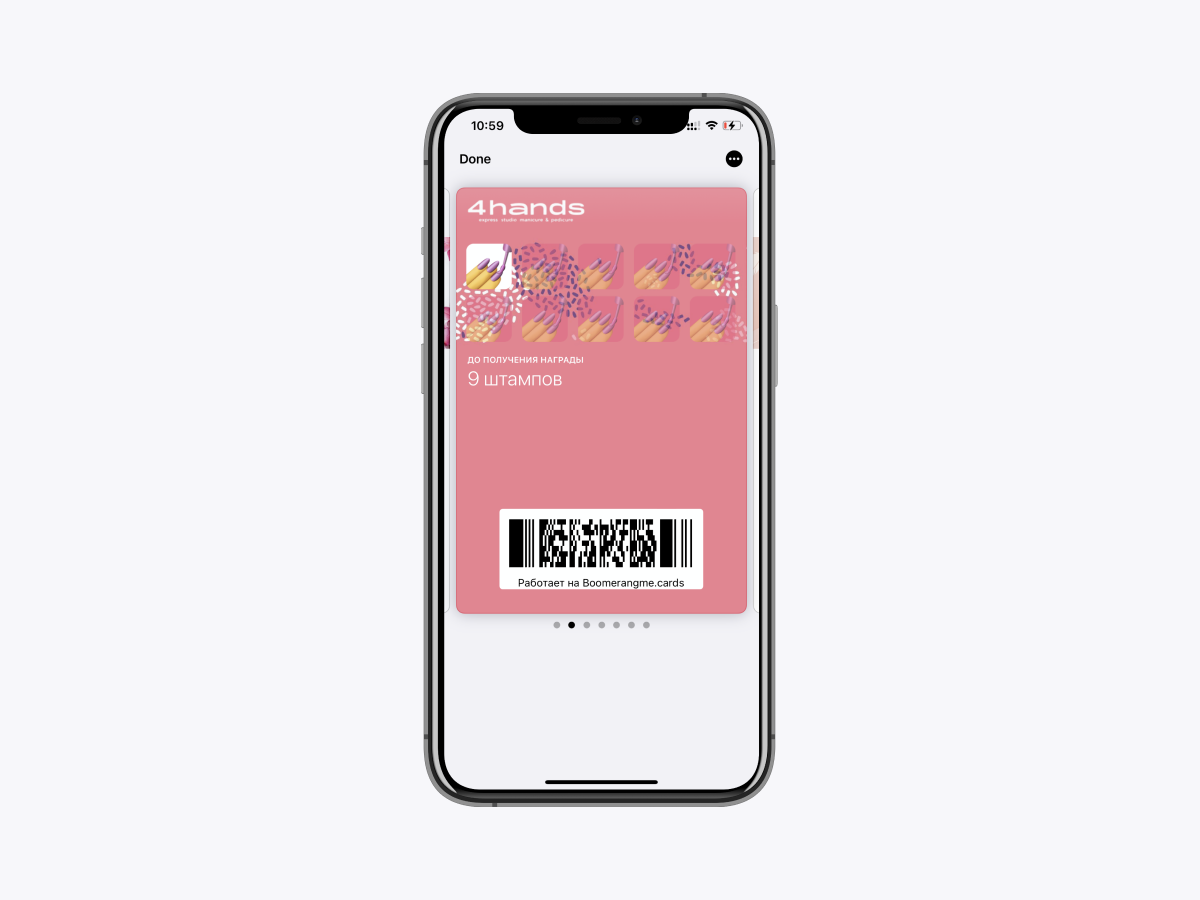 4hands stamps card example.

Follow the link to issue and see the card:

https://app.boomerangme.cards/home/getpassform/702


After integrating the promotion with YCLIENTS we created printable promo-materials for displaying them in studios. These materials get generated automatically in two formats: A4 table tents and 10x10 cm stickers that can be displayed on the employees' tables. Quite often clients scan the materials, install loyalty cards and start working their way towards the free manicure
reward right during the procedure.


An example of 10x10 cm sticker



An example of A4 table tent


As you can see in the promo-materials, stamps get awarded for each procedure over 1000₽. Such conditions encourage clients to increase average purchase value and provide you with additional profits without spending more on promotion.


Within 5 months after launching the service in five salons of the head company 4 hands
1023 cards were issued;
2338 stamps were awarded.

It is easy to see, that minimum sales generated by this loyalty program is 2 338 000₽, while 31 clients got offered a free manicure procedure and 29 clients actually received it.





Statistics of 4hands promotion within the first 5 months after implementation


All card top-ups get automatically transferred through an integration with YCLIENTS, the statistics that our clients can always check in their private account of our service


In addition to maintaining existing clients, our service can also help you get new clients

The referral program and feedback collection feature which also gets published on Yandex/ Google/ 2Gis maps.

In one hour after visiting your business the client is going to get a free push notification that will offer them to leave feedback:



If the feedback was positive - we will offer the client to share the card with their friends and leave a comment on map services.



If the feedback was neutral - then they can simply share the card.
And if it was negative - we will provide the client with the details of the salon administrator in order to figure out the reasons behind their experience.

"I saw this service used by FACE FIT, thought that it was cool and modern and there was no need to download and additional apps, but when I started to receive free geo-sensitive PUSH notifications near their salons, I completely fell in love and realized that 4hands absolutely needed this service."

Tatiana Shutova
4hands Founder